201-389-5326

Heroin in Oxycodone Pills: Warning
Heroin has been found in tablet form in New Jersey, and authorities are raising awareness of this dangerous trickery.
The pharmaceutical drug oxycodone comes in many doses. Illegal distribution on the street, for drug abusers and addicts, follows demand, so there are many brands, dose levels, and forms (tablet, capsule etc) available from various drug dealers and suppliers. In this case, the illegal and uncontrolled dose of heroin is in tablet form, with an imprint "A / 215" which normally identifies a 30mg dose of oxycodone. Click the image below to see high-resolution images, or download the heroin warning (PDF).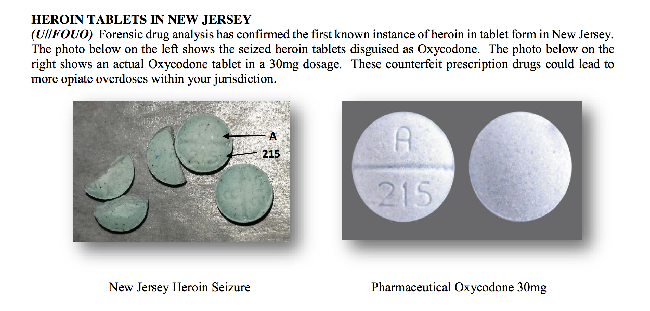 Update 5pm: The folks at Sunrise Detox have posted another important photo of a green 80mg Oxycontin, and an important note about the history of oxycodone abuse and pill color.